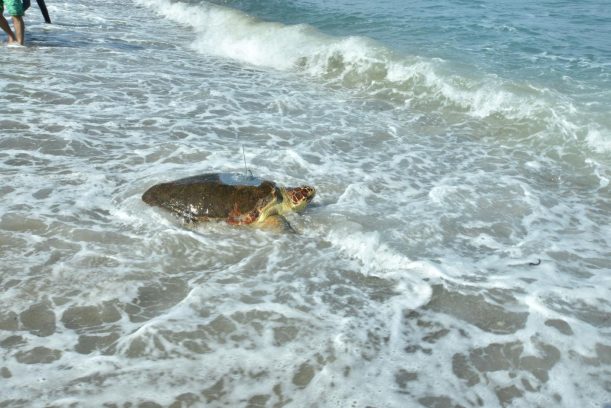 Astrid, gaining its health back as a result of the joint treatment of the Near East University Animal Hospital and Tashkent Nature Park, at end of the four-year treatment and rehabilitation process was set off by Kyrenia-Guzelyali coast in October.
According to the press information provided by Near East University Directorate of Press and Public Relations,Astrid's journey in the sea has continued through Cyprus, Syria, Lebanon and Egypt, and now settled down between Suez Canal and Bardawil Lake to spend winter.
Kemal Basat: "We believe that Astrid will have a healthy wintering…"
After the turtle named Astrid was sent to the sea, the satellite transmitter was followed by Tashkent Nature Park Director Kemal Basat. Stating that Astrid followed the migration route and feeding areas followed by green sea turtles, Baiat said that Astrid reached the Egyptian coastline, then settled between the hypersaline waters Bardawil Lake and the Suez Canal.
Basat stated that sea turtles spend most of their lives by traveling long distances between feeding and nesting areas. "Astrid started to winter in a healthy way after thousands of kilometers. Thanks to the satellite tracking device, we will continue to monitor which shores through he will travel after wintering. We are looking forward to whether he will return to our country.

Astrid has settled down for winter…
Near East University, Faculty of Veterinary Medicine, faculty member and, at the same time, Cyprus Wildlife Research Institute Adviser Assoc. Prof. Dr. Wayne Fuller said that after a long journey from North Cyprus, Astrid reached the Northeast coast of Egypt, where after a few weeks, he settled in an area between the Suez Canal and Lake Bardawil. "Wintering period is coming and it is understood that it will spend the following months by this site", Assoc. Prof. Dr. Fuller said, and added; "Sea turtles migrate between feeding, wintering, and nesting areas. Now is the wintering period. As the sea gets cold in the winter months, Astrid will probably go to deeper waters and his metabolism will slow down, and his movements will be significantly reduced as in all reptile species. Astrid's activity levels will increase again as the seawater temperatures begin to rise as the warm weather of spring arrives. And then we will see through which coasts he will continue his journey."