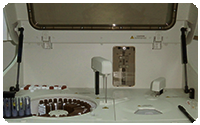 Fully Automatic Biochemistry Analyser: : It is a compact device that enables routine and research biochemical analyses to be performed within the limits of high precision and reliability from blood serum and/or plasma according to animal species and age. It is controlled through its special software, calibration and control of all tests can be performed, and reliability of the tests can be ensured with process analysis. Within the scope of the test, there are many parameters such as blood sugar, liver enzymes, kidney function tests, muscle enzymes and mineral measurements. The device can also measure some parameters in urine or puncture fluids.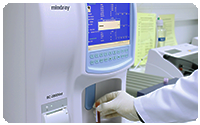 Haematology Analyzer:It is a device designed specifically for veterinary use and its analytical system is not calibrated according to animal species. With its existing infrastructure, Full Blood Count (18 parameters) measurements of 13 different animal species (Dog, Cat, Horse, Cattle, Sheep, Goat, Rat, Mouse, Monkey, Camel, Rabbit, Pig, bison) can be made with high precision and reported in a very short time.
Blood Gases and Electrolyte Analyzer: It is a portable device that enables rapid analysis of vital parameters such as pH, pCO2, Na, K, Cl, especially at the bedside.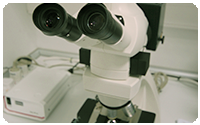 Fluorescent Microscope (UHD Imaging System): Today, the Immunofluorescent Antibody Technique (IFA), which has a high specificity and sensitivity, is used in the diagnosis of intracellular pathogens. Our laboratory applies the IFA technique with the fluorescent microscope in its body, and the UHD imaging system of the microscope and the recording of the cases can be transferred into the digital environment thanks to its special software.
Real Time PCR: It is a system that works with the principle of determining DNA and showing its amount in real time using fluorescent dyes. With this technique, the diagnosis of both infectious and genetic diseases can be made at the molecular level in a fast, reliable and sensitive manner using small biological samples (blood, tissue, organ, etc.).
Nanodrop UV-VIS Spectrophotometer: It is a microvolume spectrophotometer and can work with samples as small as 0.5 µL. It is especially used in molecular studies for DNA quantity/purity measurements.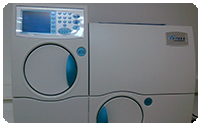 VITEK II Compaq: It is one of the most important components of the microbiology laboratory.
It is an advanced device that has been accepted all over the world in microbial identification and antibiotic susceptibility tests, which can work quickly and with high accuracy. It is faster than classical microbial identification techniques and provides a significant advantage in diagnosis and treatment.
ELISA Reader and Washer: The ELISA technique is a quantitative measurement method based on investigating the Antigen-Antibody relationship, the activity of an enzyme bound to an antibody. Today, this technique has a wide range of uses such as hormone analysis, infectious disease diagnosis, tumour markers, and measurement of cytokines. The ELISA technique is applied using special antigen/antibody coated 96-well microplates. With the reader and washer we have, washing the microplates during the test stages and then reading and evaluating the results can be done at different wavelengths, and the ELISA technique can be applied successfully.
Urine Analyzer: With our device, chemical analyses such as pH, Nitrite, Specific Gravity, Protein, and Ketone can be performed automatically on the urine. With double wavelength reflectance measurement technology, sensitive and reliable results can be obtained.
Light Microscope: It is used to examine biological materials such as blood, urine, and stool. With its front-focused, front-centred capacitor and dioptre, incorrect adjustments are prevented, and evaluation is accelerated. We have 50 units, including our Student Practice laboratories.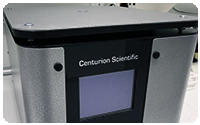 Centrifuges: There are 4 centrifuges with different features in our laboratory: Haematocrit Centrifuge, Refrigerated Centrifuge, Microcentrifuge and Normal Centrifuge. The Haematocrit Centrifuge is used as a reference method in blood Haematocrit (HCT) measurement with its special rotor. This centrifuge is especially used for animals (such as poultry and reptiles) that cannot be measured using a haematology analyser (HCT). Other centrifuges are used according to the analysis to be made and they offer flexibility in terms of their properties.
Analytical Balance: It is a device that has been produced according to EN45501 standard, has a very high analytical sensitivity (d=0.0001 g) and enables precise weighing. It is used in weight measurement and gravimetric testing of chemical, biological materials.
Vortex: It is a basic laboratory device that is used for homogeneous mixing of liquids in test tubes.
Mixer: It is used for homogeneous mixtures of blood samples taken into anticoagulant tubes before haematological analysis.
Air Displacement Piston Pipettes: It is the basic method used to transfer sample and reactive liquids from one place to another by measuring the sample and reactive liquids with accurate and precise volumes before and at every stage of the test process. In our laboratory, there are various pipettes that meet the requirements of the ISO 8655 standard, are adjustable and capable of transferring different volumes of liquid.
Water Bath Heater: A device that can be used for many purposes, which heats the water in it and keeps it at a certain temperature with the help of its thermostat. Some areas of usage include: inactivating blood serums, for open autoclaving, for thawing in feedlot preparation, for dissolving solid chemicals with liquid chemicals, etc.
Magnetic Stirrer: There are two found in our laboratory. One of them also has a heater feature. Thanks to its programable feature, it can be used at different times with different temperatures.
Shaker: A device that allows many test tubes or chemical solutions to be shaken at a certain speed and direction before or after an experiment. Thanks to its programmable feature, shaking can be done in different times and directions (clockwise and anti-clockwise), at desired times.
pH Meter: An apparatus that consists of an electrode and an electronic measurement unit used to measure the pH (alkalinity-acidity) of fluids.
Fume Hood: It is a device that is produced in accordance with EN45174 standards and is used to remove the acid vapor, heat and gases formed in the working area and to discharge the harmful air outside with the chimney connection that is connected to the system.
Kjeldahl System: It is a system that is comprised of wet decomposition and distillation units that enable the application of the reference Kjeldahl method used in quantitative nitrogen determination in biological samples. It is the reference method that is used in the determination of protein in food and feed.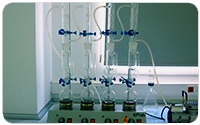 Soxhlet Extractor: Is used for the extraction of a solid with hot solvent. It is generally used for fat determination in foods.
Raw Cellulose Determination Device: Is used for determining raw cellulose in various sample types, especially feed and feed crops.
Crematorium: Is a device with a high operating temperature (900 ºC) used in the determination of ash in food and feed items.
Histokinette (Fully Automatic Tissue Processing Apparatus): An automatically programmable, open system device with a vacuum and up-down shaking motion that enables the follow-up of biopsy and tissue samples in the Pathology and Histology laboratory.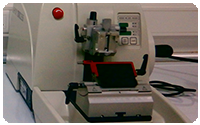 Modular Tissue Embedding Center: It Is a device that enables the tissue to be embedded effectively by orientating it into paraffin blocks and contains the necessary components for blocking (such as hot paraffin, blocking area, block cooling).
Motorized Rotary Microtome: A cutting tool that allows tissue samples to be examined by cutting them extremely finely. It is a high security device that can be used to cut both manually and fully automatically even at 1 µm thickness.